🐟🐟 Who's in??? 🐟🐟
Princess Charlotte Bay. The Coral Sea. Outer Reef Vis. Marlin Season. A rad bunch of spearos. Nothing but 🔫 spear, 🍣 eat, 😴 sleep, 🌀 repeat – for a whole week!!
Whether it's spearfishing, line fishing, snorkeling, free diving or just to explore the natural wonders that are the amazing Great Barrier Reef and #EverythingUnderWater, you're in the right place. Diversworld Cairns have partnered with Reel Deep Charters to bring you exactly this:  live-aboard charter trip experiences in Tropical North Queensland.
2022 Reel Deep Live Aboard Spearfishing Charter Trips
.
Diversworld along with Reel Deep Charters, on board M.V Norkat 2 will be running 3 Trips of a Lifetime.  These are live-aboard charters to run in April, November and December 2022, with a maximum of 10 guests on each trip.
Departing April 20th returning April 28th 2022 | 9 days 8 night 7 days of spearing | Princess Charlotte Bay | Exclusive Fully Guided Trip | 5 SPOTS LEFT
Departing November 15th returning November 23rd 2022 | 9 days 8 night 7 days of spearing | Coral Sea | Exclusive Fully Guided Trip | FULLY BOOKED
Departing December 7th returning December 15th 2022 | 9 days 8 night 7 days of spearing | Coral Sea | Exclusive Fully Guided Trip | 8 SPOTS LEFT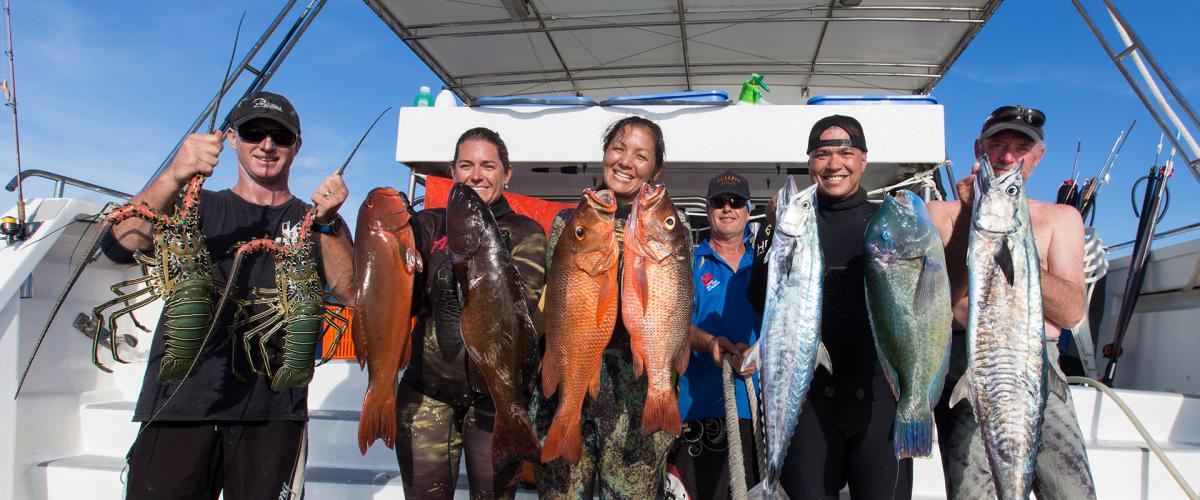 On each trip, all you've got to do is don your gear, hunt, and chill out. Your Decky will even fillet, bag up and freeze all your fish. Giving you the chance to get the most out of your holiday, crack a cold one and enjoy your time with your mates.
.
Taking your spearfishing liveaboard experience to the next level.
In addition to all the details listed above there will also be in-water guides with you during the whole week of each trip, doing all the hard work like burleying and flashing for you.
Having locally knowledgeable and experienced guides like ours also takes all the guessing game out of how to hunt specific species while you'll be picking up new tricks on the go.
The only thing left to do for you is to aim and pull the trigger on the fish – how good's that!
Total trip cost per person per trip is $4700 for 9 days.
$500 non-refundable deposit upon booking.
Payment in full is required 6 weeks prior to departure.
All meals, snacks and soft drinks provided. BYO alcoholic beverages.
Max. number of guests: 10
How to book:
These spots fill fast. To book your spot send us an email by clicking the button of your preferred trip below.