This article was originally published by Roz Pulley in The Cairns Post on the 17th June 2016. It is about DiversWorld team member and freediving instructor Roberto Berto on freediving. Rob has just returned from working as a safety diver for the Vertical Blue 2016 competition at Deans Blue Hole in the Bahamas.
There, he witnessed a history making moment. William Trubridge broke his own freediving world record, diving to 124 m on one breath. The dive took 4 min 34 Sec – amazing!!!
Have a read!
DiversWorld and Rob are conducting Freediving courses on the Great Barrier Reef:
Give us a call – we can sort you out with info, equipment and expertise!
#EverythingUnderWater
Freediving has been around for thousands of years but as a sport it's a relative newcomer. Divers compete by packing their lungs with air, holding their breath and plunging to the bottom of the ocean for minutes at a time.
With no oxygen and often no fins, they are lured to extreme depths of inky blackness and empty silence. Pressure builds on their chest, eardrums and sinuses. Their heart slows, nitrogen can affect their thinking and there's a chance they may black out.
At a certain point, they no longer need to swim. They simply sink under the weight of the water.
Freedivers push the limits, never knowing how far – or how deep – they can go on a single breath.
Freediving is a journey of self-discovery.
Cairns freediver and self-confessed dive junkie Rob Berto has felt the pain and pleasure of pushing himself into the deepest zones – he has just returned from the Bahamas where he was part of a hand-picked safety crew at the world's most prestigious freediving event, Vertical Blue.
The competition's home is Dean's Blue Hole, the world's deepest saltwater sinkhole. It is lagoon which drops dramatically to 202m a few sandy steps from the beach.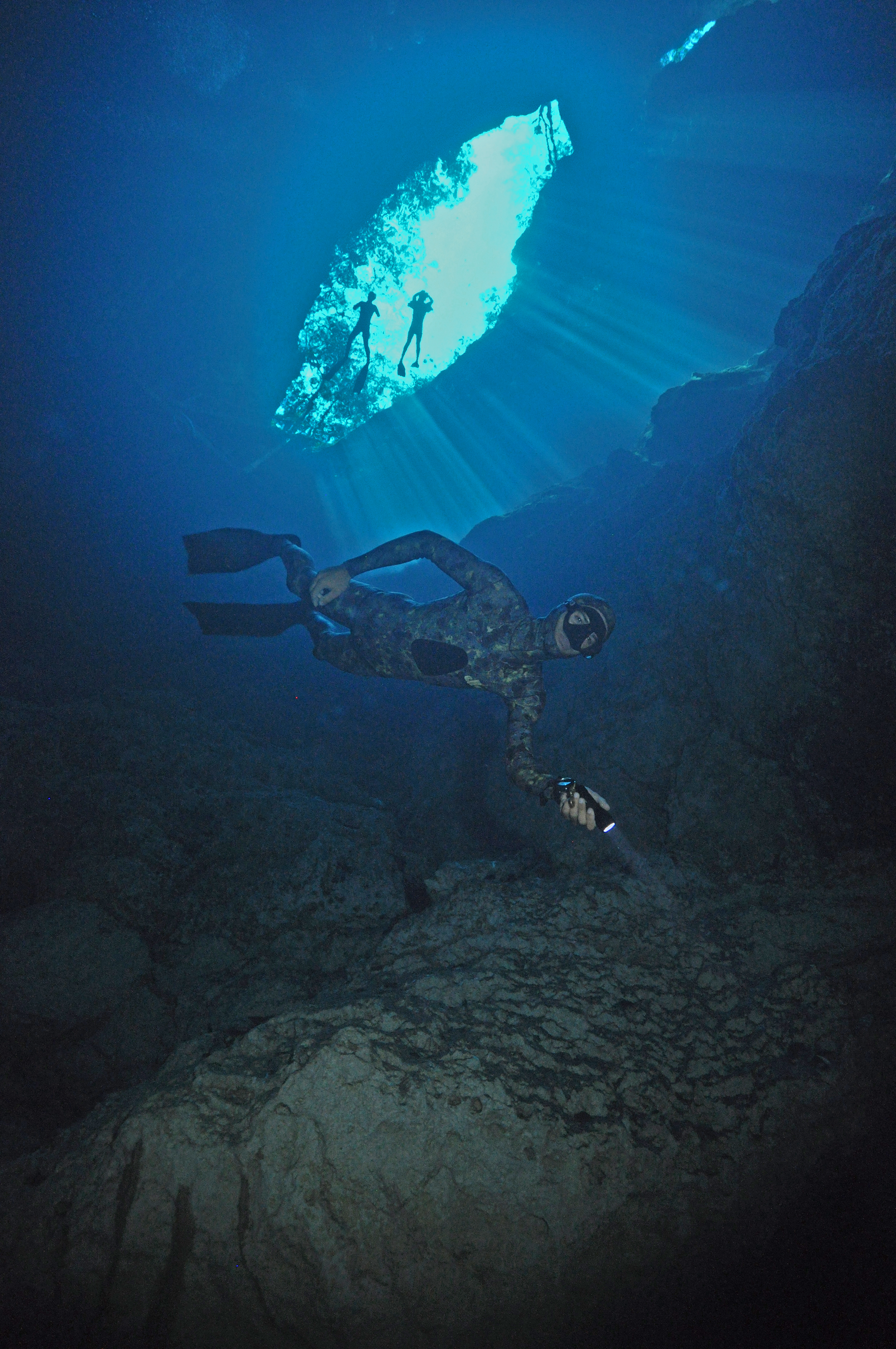 It was Rob's second trip to Vertical Blue, where he was the only Aussie safety diver and saw 24 athletes from 15 countries smash 34 national and three world freediving records.The high point was Kiwi freediver William Trubridge's astonishing performance."He bettered his own world record twice," says Rob, who was Trubridge's safety wingman for the second dive – 124m in four minutes and 34 seconds.
"I was witnessing history in the making and had the best seat in the house," he says.
Rob, 29, pushed a few boundaries himself on the Caribbean island of Roatan, hitting a personal best of 76m in the discipline of free immersion (pulling on a rope to descend and ascend) and 61m without fins.
"The feeling of satisfaction is one I will never forget," he says.
The manager of DiversWorld in Cairns has spent most of his working life around the sea – skippering boats, diving commercially and guiding spearfishing adventures: "My first job out of school was as a diving instructor, but the work dried up in winter in Melbourne, so I followed my best friend to Cairns and started a career here .. it's pretty much the best place in Australia if you want to work as a diver or in the industry."
He got his start teaching tourists how to scuba dive and breathe underwater, but developed an interest in freediving when he took up spear fishing.
Spearfishing is a lot fairer – it's man directly against the fish.
"Spearfishing is a way of underwater hunting – a means of catching our dinner, so we don't use any breathing apparatus. It's only breath hold. It's a lot fairer for the fish because it's man directly against the fish."
His first freedives were quite short but his mind, body and lungs can now cope with up to five minutes without air.
"Like most things, it's repetition. They're all muscles you're training. We are diving mammals. We're equipped the same as a whale or a dolphin, so it's basically getting back to our roots and relaxing the mind and being comfortable in a watery environment."
Rob has a daily routine of stretching, yoga, relaxation and warm-up dives before heading into his target dive of the day.
"Every day is an ongoing quest to be better and more like a fish, at one with the water.
"For me the dive is a spiritual experience. The only thoughts are positive and relaxation is key. If you're not relaxed, your muscles won't allow the pressure to take place on them – especially your lungs – and you won't be able to equalise at depths."
Rob says Cairns has become a hub for freedivers, with the Great Barrier Reef on one side and the deep waters of Lake Eacham on the other: "At Lake Eacham we have over 60m available to dive and it's a great training platform for beginner and advanced freedivers, so people travel from around Australia because they know they're going to have flat water and the depth available 365 days a year."
He says freediving has more to do with mind control than age, weight, strength or lung capacity.
"With proper training, you can progress quite quickly. We've seen people go from beginners … to world record holders."
Safety is paramount.
"You're entering another environment, so you need to be respectful, but if you follow all the protocols, it's very safe."
Increasingly popular, no one understands the pull of freediving more than him.
"It's addictive. It's the challenge – of everything – the body, the mind. From the moment I wake, it captures how I live my life."