A Freediving Life
A life dedicated to the sport of freediving and spearfishing has immense rewards in the form of physical growth but also self-satisfaction in knowing that one has tried and tried many time and succeeded only on few occasions. It's for this reason that we don't allow ourselves to give up, instead we strive to do it better, more relaxed, deeper, longer or perhaps in another ocean.
Freediving
When we think of starting a new sport we look at the reasons why we would benefit from doing it. Is it the equipment that draws us in?   Is it purely for the fitness or is it a combination of all? – the only way to describe it is -Lifestyle.
For me it is the Lifestyle that draws me to the sport of freediving and spearfishing. From the moment I wake it captures the way I live my life, the balanced diet, the morning yoga, the painful and sweaty training the joy of teaching a newcomer to the sport some tips or tricks, The planning of upcoming trips and of course an evening meal of  freshly speared fish.
Thinking back to what drew me into the amazing sport. It was the welcoming people who were eager to share their amazing underwater world with me. Their passion and excitement was intoxicating and therefore turned me too into a diving junkie. Travel through diving has presented me with a new world of passionate and talented freedivers.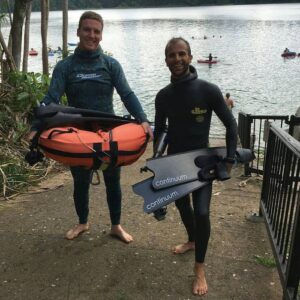 The Art of breath hold diving is one of constant peace, pain, and natural feelings all rolled into a quick few minutes before we breathe again.
Freediving as a sport can be started at any point in one's life- age is not an issue. Looking at some of the deepest women on earth they are well into their 40s even 50s. So this amazing 'Lifestyle' can be adopted by anyone looking for a way to increase their general wellbeing and discovering our amazing ocean.
Having the joy of been involved in a community full of people looking to discover their potential is addictive. Pushing personal bests is always great and watching your buddy do it is even more rewarding.  As of late we have created a group locally, named Cairns freedivers- from the simple act of creating our facebook page we have lured in many members from all walks of life to learn about this amazing and fast growing sport. Having dived amongst the world's best divers, it became evident that our outlook on the sport was so different yet the feelings of satisfaction all the same regardless of how deep we were diving the main thing was that as long as we are trying our best.
My vision for the sport is that we are constantly welcoming people – helping the community to grow in a sustainable manner.
So if thinking about freediving go ahead and hold your breath and welcome to our world….. incredible.
Roberto Berto is a spearfisherman, freediver and freediving instructor based in Cairns.
DiversWorld and Rob are conducting Freediving courses on the Great Barrier Reef:
Give us a call – we can sort you out with info, equipment and expertise!
#EverythingUnderWater