Kurrimine Beach Competition 2015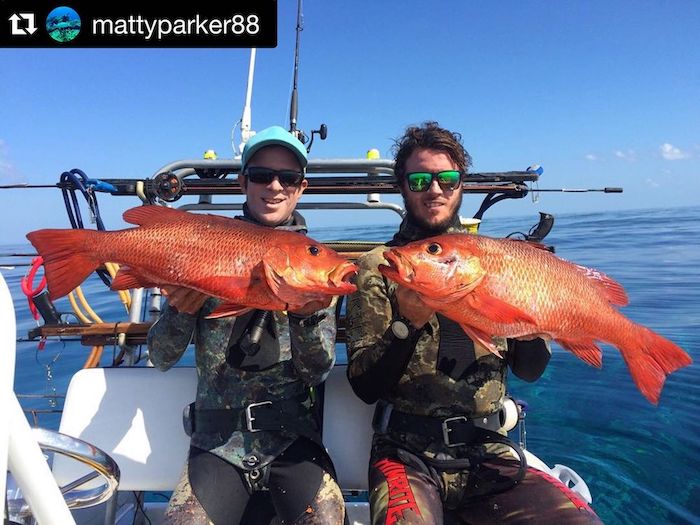 Day 1 of the 2015 Kurrimine Beach Competition
The 2015 comp started with a prediction of glass out weekend and it certainly turned it on for our team on the Saturday with next to no wind. We headed out to one of our favourite little rocks to have our first dive and it was on as soon as we jumped into the water with the first 4 dives all producing good fish. We then pushed out to the outer reefs in search of some mackerel. The current was slow and it was hard diving with only landing a couple of small fish. At this stage we decided to head to a coastal headland to chase a few goldspot cod and it didn't disappoint with a couple of 10kg fish and also a monster coming in out of the 2m vis at 14kg. We headed back in to the weigh in knowing we had landed a fair few good fish and in with a pretty good chance going into day 2 with only a couple more species to land  from the list.
Rob Berto and Matt Parker Team DiversWorld
Day 2 of the 2015 Kurrimine Beach Competition
Day 2 started with the wind slightly up on day 1 so we decided to head coastal in search of a tuskfish and grassy emperor. We landed a few small tuskys but the grassy were still alluding us but as the wind started to ease we decided to dash back out to the reef for the last couple of hours diving, which proved to be a good decision wih a couple of monster crays and also the biggest jack of the comp coming out of one of the cray ledges taken on a small cray gun. With the early weigh in on Sunday we had to leave the reef at around 11.30 to make the 1pm deadline. After all the fish were weighed in we enjoyed the hospitality and the Kurrimine beach hotel and a few well-earned cold beers to finish of the trip. After the results were tallied up our team took out a few good prizes with the biggest coral trout for the comp, Roberto Berto 7.7kg, Biggest reef jack, Matthew Parker 5.2kg, Senior male champion spearfisher Matthew Parker and overall champion spearfisher Matthew Parker.
Jess from RCZ Charters and Matt Parker