Description
Ocean Hunter Chameleon Extreme HS 2mm
The Ocean Hunter Chameleon Extreme HS 2mm is an ideal wetsuit for warm water freediving and spearfishing. This suit is really easy to put on and does not require the use of any lubricants. It has a comfortable jersey lining with glued and blind stitching.  This allows the water to be kept locked in which will give you maximum heat retention, warmth and flexibility.
This suit makes for an ideal choice at any experience level.  Made from tough and long lasting Duraprene, this high stretch suit has a thickness of 2mm.  This suit is ideal for use in warm waters and has been designed to handle a lot of wear.
Features
Featuring an anatomical 3D panel design.  It is a comfortable cut with a hooded jacket and beaver tail two piece design.
The Extreme HS has a new, tough as nails, hexagonal Ocean Hunter chest loading pad.  This provides you with maximum protection when loading your speargun. Also included are ultra tough, high wearing Supratex knee and elbow pads for extra protection when you are chasing crays around rocks.
Printed on the external layer of the suit is the highly regarded Ocean Hunter Dual Camouflage design. This unique camo pattern has been designed exclusively for Australian waters and will allow you to blend into multiple spearing locations.  Now you'll be hidden anywhere from rocky shore reefs through to tropical blue water and coral reef environments.
Another feature are the glued and blind stitched seams which ensure perfect water seam integrity. Make no mistake, this truly is a high performance suit that will provide excellent durability, comfort and fit at an exceptional price.
2mm style features high waisted pants and flat lock stitching
New tough as nails hexagonal OH loading pad
High performance Ocean Hunter dual camo
High wear Supratex knee and elbow pads
Extremely High Stretch and ease of donning.
Ocean Hunter Size Chart: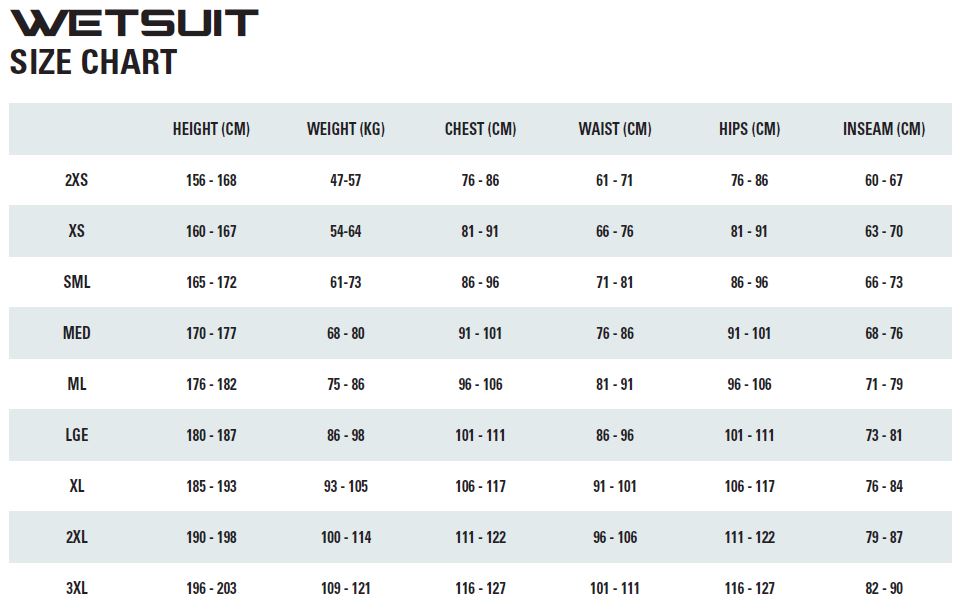 Ocean Hunter Chameleon Extreme HS 2mm Care
After every use, you will need to clean your wetsuit to get rid of sea salt and sand or dirt. If you choose not to clean it correctly it will deteriorate and also the zipper is likely to seize up.
You can purchase specifically formulated wet-suit wash. The sooner after your dive, then better. Try not leave it a few days before you get around to doing it.
A great way is to fill the bath tub up when you get home from your dive, add the wet suit wash and your wet suit and give it a through clean. Hang on a wet suit hanger to drip dry ready for your next dive.